Meet SarahBerry!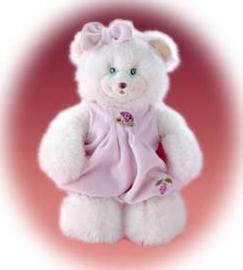 A Story To Share
Sarahberry
All About Sarahberry
This fun-loving bear enjoys picking pretty flowers, playing in puddles, and sharing. She loves to lead the way on adventures!
Sarahberry's Favorites:
Color: Party pink
Food: Birthday cake
Word: Splash!
Hobby: Leading a game
SarahBerry™ Product#: 74366 Ages: 3 yrs. & up Approximate Retail Price: $16.00 This fun-loving bear really likes pink, don't you think? Here's something else you need to know: her favorite food is birthday cake, so be sure to invite her to your next party! She loves to go for walks, use her imagination, and share with friends. Learn more about Sarahberry in her story! Pink bear with blue eyes and open mouth wearing pink jumper and headband. First issue bear came with hangbook. Second issue bear included a bouquet of flowers hangtag & storybook, "A Picnic With A Special Treat - A Story of Generosity with Sarahberry and Berryellen". Older bear of the line. (1998 & 1999)
Last updated: Monday, September 03, 2001 11:42 PM
There have been:

Free counters provided by Honesty.com.

visitors since Monday September 3, 2001!
<----- Back to my

page! ------>
All logos and trademarks belong to their respective owners. I make no legal claim, implied or otherwise, to them, and have just borrowed them to aid in searches, information, and page viewing. If I have stepped on any toes or you are thinking of slapping me with a summons or lawsuit, please feel free to contact me prior to such actions, so I may cooporate and abide to changes required.